Gov. Andy Beshear has declared a state of emergency in response to flooding in several southeastern counties, including Knox and Whitley counties.
"By declaring a state of emergency, I am enabling the mobilization of state resources to be utilized in support of cities and counties in need," said Gov. Andy Beshear. "We are acting swiftly to ensure the safety and security of Kentucky families and communities that have been impacted."
The Kentucky Division of Emergency Management (KYEM) activated the State Emergency Operations Center (SEOC) on Thursday, Feb. 7, at a Level 4. To date, KYEM has received eight (8) county and three (3) city state of emergency declarations.
County Declarations: Bell, Clay, Harlan, Knox, Leslie, Letcher, Perry and Whitley.
City Declarations: Whitesburg (Letcher), Jenkins (Letcher) and Hyden (Leslie).
As historic flooding brought the city of Pineville to close one of its floodgates for the first time on Thursday, Knox County officials were monitoring their neighbors in Bell County and began preparing by declaring a state of emergency Thursday at 11 a.m.
Officials in Bell County issued a state of emergency on Thursday morning as well. As last reported by the National Weather Service at 10:30 a.m. Friday the Cumberland River was reported at 1,012.6 feet in Pineville. Major flood stage for the river in Pineville is 1,019.0 feet.
The NWS reported the river crested in Pineville at 1,019.06 feet Thursday evening.
The flood of 1977 sits on the top of the list for historic crests of the Cumberland River in Pineville at 1,021.8 feet. The second highest crest was recorded March 18, 2002, at 1,017.32 feet, so Thursday's flooding surpassed it.
Neighboring counties Knox and Whitley knew it wouldn't be long before the flooding problems worsened in their own counties.
The NWS reported that at 9:30 a.m. Saturday the Cumberland River in Barbourville was at 35.63 feet. Minor flood stage is 27 feet. Moderate flood stage is 33 feet and major flood stage is 38 feet.
The NWS reported the river crested at 40.01 feet Friday afternoon before lowering. The crest put it at the 10th highest in recorded history.
The NWS reported at 2 a.m. Sunday the Cumberland River in Williamsburg was at 34.11 feet. The minor flood stage for the river is 21 feet. The moderate flood stage is 27.5 feet and 32 feet for major flood stage.
The NWS said the river crested at 34.8 feet by Saturday evening. The crest is the third highest in recorded history.
The top on the list for historic crests of the river in Williamsburg are the 1977 flood at 35.03 feet and 1886 flood at 35 feet.
"At 31.0 feet, flooding threatens many homes and businesses. Roads begin to flood, severing evacuation routes. Major flooding threatens the downtown area," the NWS flood warning stated.
A reception shelter at the Kentucky National Guard Armory on Hurricane Hollow in Williamsburg has been opened for those who have been affected by the flooding.
In Knox County, Knox County Emergency Management said residents affected by the flooding should be prepared to shelter in place or be prepared to relocate on Thursday.
"We're in a preparedness stage here as far as looking out for the safety of Knox County residents and taking precautionary measures put in place," said Knox County Judge Executive Mike Mitchell on issuing the state of emergency.
The Kentucky Transportation Cabinet has closed several roads as flooding has made the roads impassable or mudslides have blocked portions of the roadway. Crews are working clearing the mudslides, according to KYTC District 11.
PHOTOS: Flooding causing mudslides, road closures in Tri-County
"Please use caution in your travels this morning," Whitley County Judge Executive Pat White, Jr. posted on Facebook Thursday morning. "We were supposed to get quite a bit of rain this week but the earlier forecasts hadn't shown it all coming at once like it did last night. Road crews are working to clear trees that have slid and check flooded areas for damage. Many areas are still under water. PLEASE do not cross flooded roadways! You can't tell by looking at the water if the road has been damage underneath and it can lead to life threatening situations. It is better to be safe than sorry. If you become aware of damaged areas please let us know by calling 549-6016 or dispatch at 549-6017."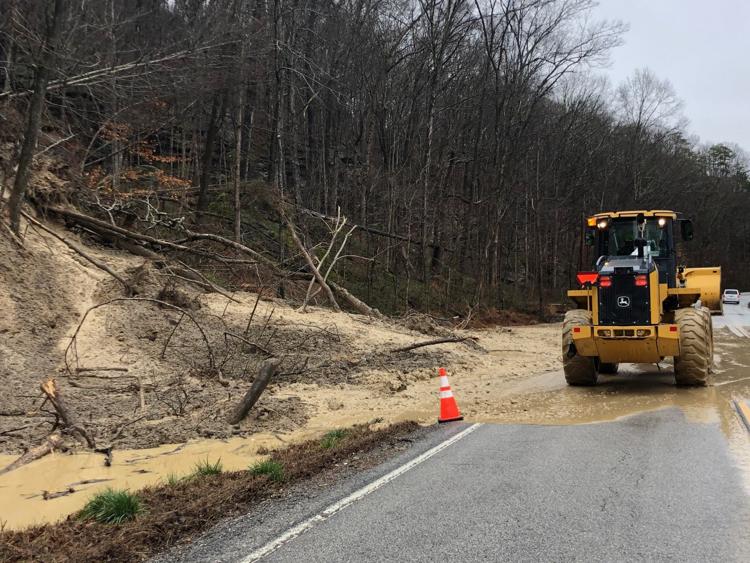 The NWS advises drivers to turn around when encountering flooded roads.
Due to the flooding, the Kentucky Transportation Cabinet District 11 is reporting that the following roads are closed (there may be more roads closed, but this has been all reported to KYTC as of Saturday morning):
Whitley County
KY 26 (Closed at 3 Point)
KY 25W mile point 14.1 (junction of KY 26)
KY 92 mile points 15.5 and 19.5
KY 1804 mile points 0.0-5.493
KY 2996 mile points 3.4-3.766
KY 1064 mile points 4.8 and 5.5
A portion of I-75 southbound (right lane) in Whitley County also closed Thursday as contractors conducted slide repair operations.
KYTC advised motorists that a portion of I-75 southbound (right lane) in Whitley County at mile points 2.0 – 3.0 would be closed beginning Thursday and was expected to reopen at 8 p.m.
A portion of US 25W from mile points 0.0 to 2.0 in Whitley County was closed due to high water, but was reopened Friday morning.
A portion of KY 92E from mile points 21.926 (Lawson Bend Road) to 22.926 (Reynolds Hill Drive) in Whitley County will be reduced to one lane beginning Thursday until Friday, February 7 at 5 p.m.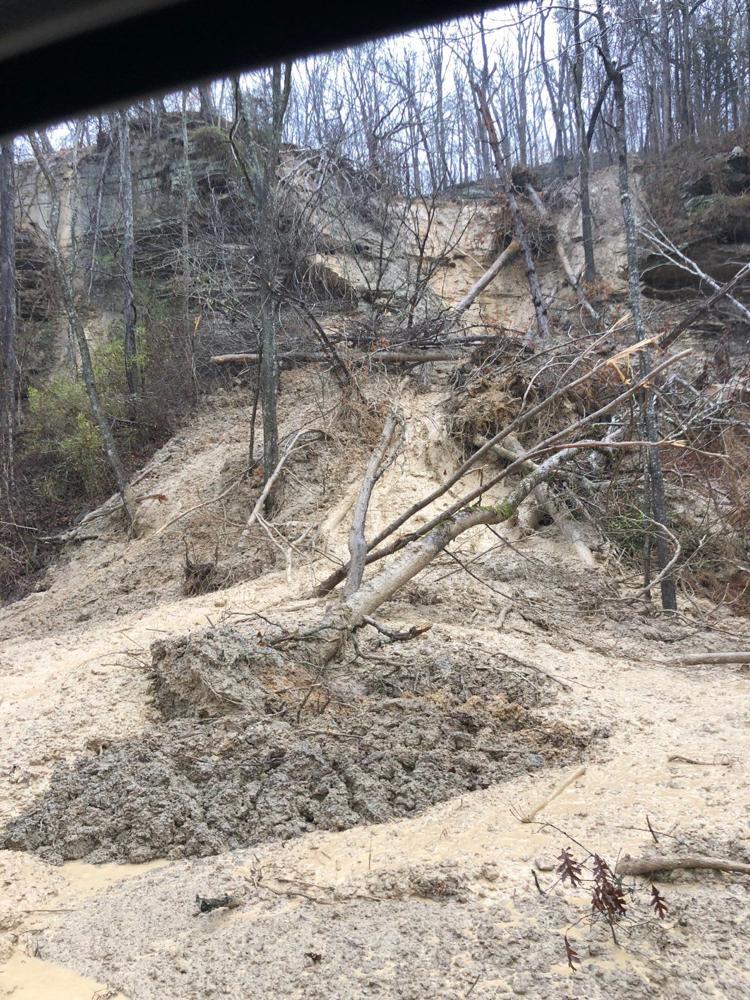 A portion of KY 628 at mile point 4.8 in Whitley County will be reduced to one lane beginning Thursday until Friday, February 7 at 5 p.m.
The lane closures are necessary to allow contractors to perform slide repair operations.
Knox County
KY 6 mile point mile points 0-1
KY 3441 mile points 1-2
KY 459 mile points 0-1, 3-5 and 9-10
KY 930 mile points 1-2
KY 718 mile points 1-2
KY 1487 mile points 1-2
KY 11 mile points 3-6, 7, 8, 11 and 12-13
KY 1527 mile points 2-3
KY 229 mile points 0-2
School closings:
Cumberland Falls has closed some areas of the park as flooding continues.
Whitley County School District closed due to flooding on Thursday and announced it will close Friday as well. Williamsburg Independent is closed for Friday.
Knox County Public Schools were already closed due to illness Wednesday through Friday.
Union College decided to close at noon Thursday. 
Other cancellations:
Barbourville City Council has cancelled its meeting that was set for 6 p.m. Thursday and moved it to next Thursday.
Flood warning
The National Weather Service in Jackson, Kentucky, had extended a flood warning for parts of Knox and Whitley Counties until 7:15 p.m. Thursday.
As of 1:09 p.m. Thursday, the NWS reported three to five inches of rain in the past 48 hours had fallen across the area.
U.S. Rep. Hal Rogers posted on Facebook Thursday afternoon: "My thoughts and prayers are with those impacted by severe weather and flooding across southern and eastern Kentucky today. I applaud our first responders who are already conducting high water rescues in the region, keeping individuals and even animals, safe and dry. I have field representatives across the district touching base with many of our county judge executives and mayors to keep track of the dangers ahead and the needs in each community. We have also reached out to the Kentucky National Guard and the U.S. Army Corps of Engineers to keep them informed, and I stand ready to assist in any way possible."
Corbin Fire Department's Special Operations team went to Harlan County to aid in rescue efforts.
"Kentucky Emergency Management officials, along with local emergency management personnel, will be conducting damage assessments in the declared counties beginning Saturday, Feb. 8, through next week, as water recedes," stated Michael Dossett, director of KYEM. "In addition, please be aware of emergency responders who will be active during the following week."
To report weather-related damage, please contact your local emergency management office. For information about KYEM operations, please contact Monica French at 502-607-5721.
Gov. Beshear has also issued an executive order implementing Kentucky's price-gouging laws. The emergency order triggers Kentucky's consumer protection measures the next 30 days. The protective measures may be extended beyond 30 days if needed.
If anyone has information regarding possible price gouging, contact the Office of the Attorney General Consumer Protection Hotline at 888-432-9257.