WILLIAMSBURG — A mother, along with family and friends, were protesting police brutality around Williamsburg's courthouse square Saturday morning after she says her son was badly beaten by Kentucky State Police officers.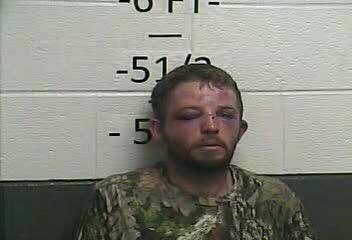 Betty Hamblin, the mother of Bradley Hamblin of Williamsburg, said the event happened on Boyd White Road August 18.  Police officers thought that Bradley Hamblin had burnt a house down. Betty Hamblin says that wasn't true.  
A witness told Betty Hamblin that several officers came, pulled her son out of a trailer and beat him.
Betty Hamblin said the officers had to take him to Baptist Health Corbin where Bradley's father met them. Although his father was not able to talk with his son, he said he could see that he was badly beaten.  
According to Hamblin, the hospital said Bradley Hamblin, 28, had his ear torn off and had to be resewn and his jaw was broken.
After the hospital treated Bradley Hamblin, the officers took him to the Whitley County Detention Center. He was booked in the detention center at 7:28 a.m. Aug. 18.
Betty Hamblin talked to her son on the phone and asked did they beat him up and he said, "yes".
Bradley Hamblin is charged with third-degree arson, tampering with physical evidence, second-degree fleeing or evading police on foot and resisting arrest. He is set to be in court on Monday.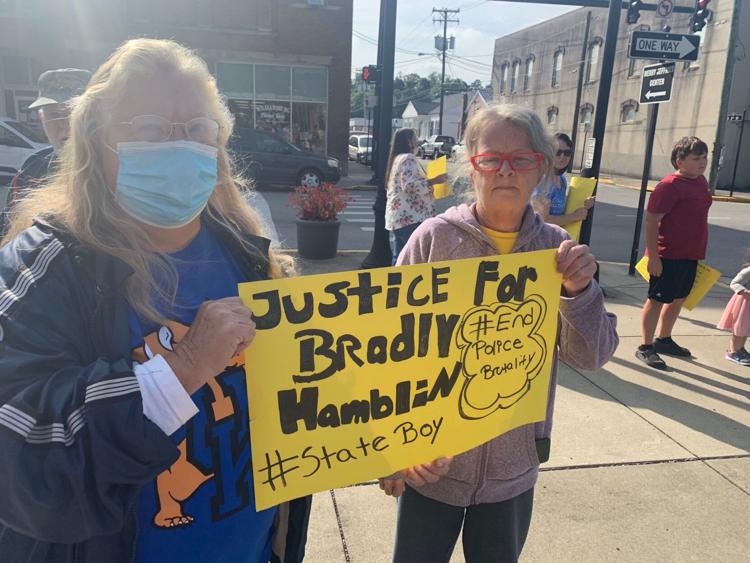 Betty Hamblin is battling stage 4 cancer but said she wanted to protest police brutality on the courthouse square to help prevent it from happening to someone else.
"We are trying to keep this from happening to somebody else's kid," she said. "There are good police officers and bad officers. These were bad officers. They were being judge and everything that night. They shouldn't even be on the force."
The official arrest citation filed by KSP Post 11 Trooper Dackery Larkey says that Hamblin was found at a residence on Boyd White Road on Aug. 18 where there was a burn pile outside that had a partially burned boot in it. According to the arrest citation, Hamblin said those were his boots.
Larkey said in the citation that "the boot tread appeared to match the description of a boot print in the soil that was obtained at an active arson scene where a newly constructed home was being built on River Road, Williamsburg. The home was less than two weeks away from being completed."
Larkey said in the citation that Hamblin also appeared to have a burnt index finger on his left hand.
The arrest citation said that the fire at the home on River Road was at 9 p.m. August 16.
Hamblin was arrested by KSP at 3:21 a.m. Aug. 18 and was booked in the jail four hours later.
The local KSP post told The Times-Tribune on Saturday to contact the Frankfort post on Monday.
Lieutenant Josh Lawson with KSP said on Monday that he wasn't sure on all the details of the case.
"If there was a response to resistance or use of force in that scenario, of course we investigate all those depending on the level of severity and circumstance involved," Lawson said. "Those will be investigated at post level or could rise to our internal affairs branch at headquarters."
"We do take all those very seriously and investigate those to determine if it was the appropriate amount of force utilized or if it was in any way excessive and if it was, we would respond appropriately with those troopers," he said. "I imagine our internal affairs branch is looking into that. More of that will become clear as the investigation progresses."
Editor Erin Cox and Staff Writer Angela Turner contributed to this article.