LILY — A local church is offering a free hot meal every day of the week for anyone in the community who wants a meal.
Restoration Ministries, located at 420 Lily School Road in Lily, opened The New Day Cafe on Monday. The cafe will be open 5:30 to 7 p.m. Monday through Friday for dinner and 8:30 to 9:30 a.m. Saturday and Sunday for breakfast.
"We want to give back to the community," Kim Young, coordinator of The New Day Cafe, said on Monday. "We want the community to have a place to come and that's what we're here for."
Pastor Ronnie Smith introduced the church's new endeavor with a video on Thursday and The New Day Cafe was ready to serve Monday evening..
"It's for anyone, whether you're rich or poor – listen you don't have to be homeless to be hungry," Smith said in the video. "If you just want to come and fellowship and have a great time or if you worked hard and don't have time to cook dinner or whatever, it's free and we would love to minister to you here at Restoration Ministries."
The cafe works like a restaurant allowing guests to come in and tell the host how many people are in their party to be seated. Once the guests are seated, their order is taken and volunteers will bring the food to the table.
"You can come one day a week, you can come every day if you want to," Smith said. "But seven days a week we are going to try to feed our community as long as we possibly can."
"We just want to show you the love of God," Smith added.
In addition to the cafe being open, the church will open the activity rooms for children while The New Day Cafe is open. James Paul, the church's children's pastor, is excited about the opportunity to share the love of Jesus with new youth The New Day Cafe will bring into the church.
"It's going to bring people in that normally wouldn't want to come into church," Paul said. "I'm excited about being able to see the new people and just let them know that you don't have to be a certain way, you don't have to get cleaned up and make things right before you come to church, we're just normal people too."
Smith said that other ministries looking to volunteer or help out in anyway are welcome to take part in The New Day Cafe. Church members were volunteering on Monday and Young has been reaching out to other churches in the area to see if they would be interested in serving.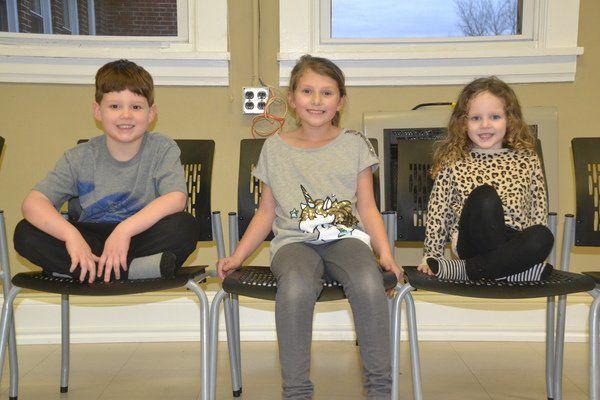 "This is a total community effort, we'd love to have you help us here at Restoration," Smith said.
The New Day Cafe is currently being funded through a fund through Corbin Independent School District.
Restoration Ministries recently purchased and moved into the old Lily School property in Lily. The 10-mile move, from the church's original location in Woodbine, has given the ministry 7.66 acres and nearly 32,000 square feet to begin new endeavors like The New Day Cafe.
"Our heart and mission is to help our community, and this facility gives us an opportunity to expand our vision for a preschool, home for children, outreach to the homeless, and school of ministry," Smith said in a previous article about the move.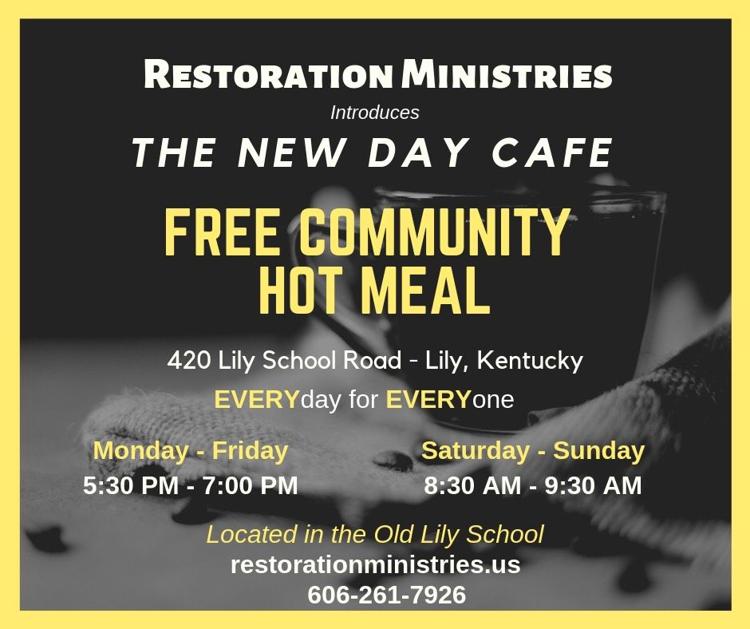 For more information visit restorationministries.us or call 606-261-7926.