It's a "bucket list" that can't be topped.
A father-son road trip that won't be forgotten, any time soon by any of them.
Two longtime friends — one, a father with a son and stepson, the other a dad with two teenage boys — hopped into a van and headed out to get a bite to eat.
But, there's a catch.
The trip started Thursday in Canada — Montreal, Quebec, that country's second-largest city — to be exact.
From there, the six drove all the way to Corbin, had dinner at the Harland Sanders Cafe and Museum — where Kentucky Fried Chicken was born — stayed a couple of hours, and drove straight back to Montreal.
The journey took 34 hours. The fathers and sons even had T-shirts made to commemorate the trip.
They crossed two Canadian provinces — Quebec and Ontario, five American states — New York, Pennsylvania, Ohio, Indiana and Kentucky, drove approximately 3,364 kilometers (about 2,090 miles), and spent five days away from home.
Brian Lutfy was one of the dads.
He said the trip would give them time to bond with their sons, and have some fun at the same time.
Also, it would close a chapter he never had a chance to finish.
In 1985, Lutfy visited Corbin and ate at the cafe. He went gaga over KFC, caught up on some history, and would return a decade later to catch up on his homework.
Plus, three of the teenage boys — his 13-year-old son Jason, and his friend Neil Janna's two sons, Jesse and Josh — had never had a morsel of Kentucky Fried Chicken in their lives even though they do have KFC's in the Montreal metropolitan area.
Because of the large French Canadian population in that city and Quebec, the restaurants are also known as PFK's, or "Poulet Frit Kentucky" (Kentucky Fried Chicken).
"Because they've never eaten at KFC, that will make the trip even more special," Lutfy said in a phone interview Wednesday from Montreal.
The men kissed their wives and daughters, while the boys kissed their moms and sisters, and the travelers rolled down south Thursday.
After racking up some quality mileage that day, the "Montreal 6" spent the night in Erie, Pennsylvania, then headed out through Ohio and crossed the river into Kentucky Friday.
By nightfall, they settled in at a motel in Scottsburg, Indiana.
The Hoosier State's location was central to them to visit other places associated with Col. Sanders.
Early Saturday morning, they visited Henryville, Indiana, the Colonel's birthplace. Crossing the Ohio River into Louisville the crew went to the Colonel's burial place, and to the world headquarters of KFC's current owner, Yum! Brands.
Shortly after 10 a.m., they headed to Corbin for the last leg of their pilgrimage.
But the trip was far from somber.
Lutfy works as a consultant for his own business, an information technology company.
Janna works for a company that makes T-shirts and promotional items for sports teams and other groups.
He's also a stand-up comedian during some night and weekends.
As it turned out, the gang played practical jokes on each other, and put many of them on some crazy videos that can be "liked" and viewed at their Facebook site — "Neil, Brian, the 3 J's & Seb are Going to Where it All Began."
The crew of six stately motored down U.S. 25 into the north part of Corbin around 1:45 p.m. Saturday.
With frantic but friendly waves, a combination of local diners plus hungry visitors from other states and at least one foreign country greeted them, as their blue van with a bucket of KFC stuck on the top pulled into the cafe's parking lot.
They struck up a conversation with the cafe's General Manager, Dennis Overbey. He's been at the helm at the Corbin KFC for 40 years.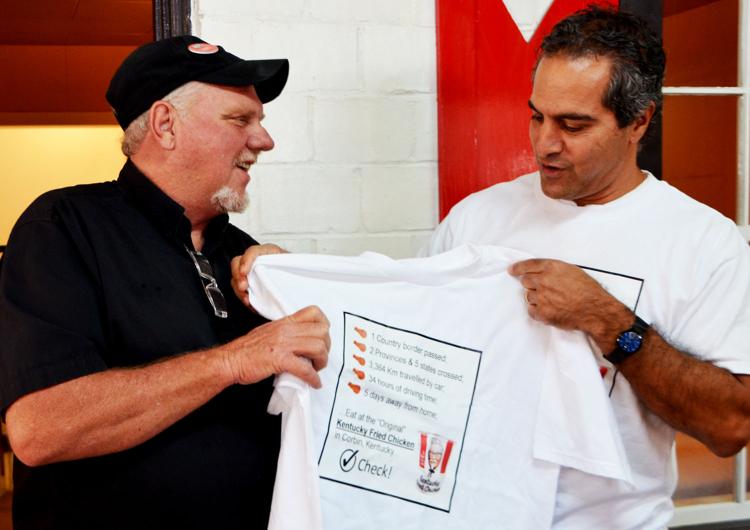 "Have you ever met the Colonel?" Janna asked the manager.
Overbey replied, "I met him here back in 1980. He always carried a spoon with him. His pet peeve was to test the gravy first in his restaurants, to see if suited him. If it didn't, he'd throw the spoon down on the floor. Our gravy passed muster. The Colonel was happy."
Lutfy told him, "We traveled over 2,000 miles to have dinner here. Has anyone driven that far to get here?"
"I can't recall anybody who's driven that far," Overbey said.
The Canadian crew gave him some gifts, including some Canadian maple syrup, local foods, a certificate, and several empty KFC buckets from Canada — printed in English and French, the country's official languages.
When Overbey saw their van, the sight of the bucket of the Colonel's chicken on the roof blew him away, big time.
Shaking his head and smiling, he exclaimed, "In 40 years, I've never seen anything like this!"
Inside, Lutfy, Janna and the boys ordered their meal, then went to the dining room.
Diners seemed to be in awe as the group set up their table of six.
Bringing out their own plates, silverware, glasses, artificial flowers and candles, the friendly visitors prepared quite the spread for the appreciative crowd.
While they waited for the festive feast, Lutfy told the story about how their journey came about.
"Jason and I were having dinner one day, and I told him how I traveled to the original KFC in Corbin. A friend of mine was traveling in 'The States' in 1985, and we were in Kentucky and Corbin, so we came here. It was great. There were pictures on the wall — the place wasn't a museum yet, and I loved the food. There was a plaque in front of the restaurant that told the story of the birthplace of Kentucky Fried Chicken. I read the plaque, took a picture of it with a Polaroid camera, and we left to go back north. On the way back, I looked at the picture, read it again and realized there was more information on the other side of the plaque," he pointed out.
Janna and the boys were checking out parts of the cafe that are now a museum, including old signs, memorabilia, and the kitchen and bedroom that made up the cafe and the former motel.
Lutfy was able to make up for missing the rest of the plaque 10 years later in the mid-90s.
"That's when I went on a trip to visit a friend in Nashville, Tennessee. After visiting there, I decided to make a side trip to Corbin and visit the KFC again. That time, I got to read the other side of the plaque," he stated.
Lutfy told those stories to Jason, who was amazed.
"My son was enthralled by all this. He said to me, 'Dad, Let's do this. Let's do a father-son trip. I told him, 'Jason, you realize it's about 34 hours round-trip?'" A couple of days later, I kept thinking, 'I'm not 20 years old now, I'm 52…I called Neil, who's 51, and told him my idea. Neil, my stepson Sebastien who is 23, and I could take turns driving. I told him we and the boys would never forget this road trip. They'll forget they went to Niagara Falls, but they won't forget this," he recalled.
A cafe employee brought out two huge platters of KFC — Original Recipe and Extra Crispy — along with several sides.
The "Montreal 6" then went to the area where customers order to fill their cups with ice, soft drinks, tea and water.
Then, it was time to chow down.
The chicken went down quickly. Watching the three boys who'd never eaten KFC before, their eyes got wider the more they ate.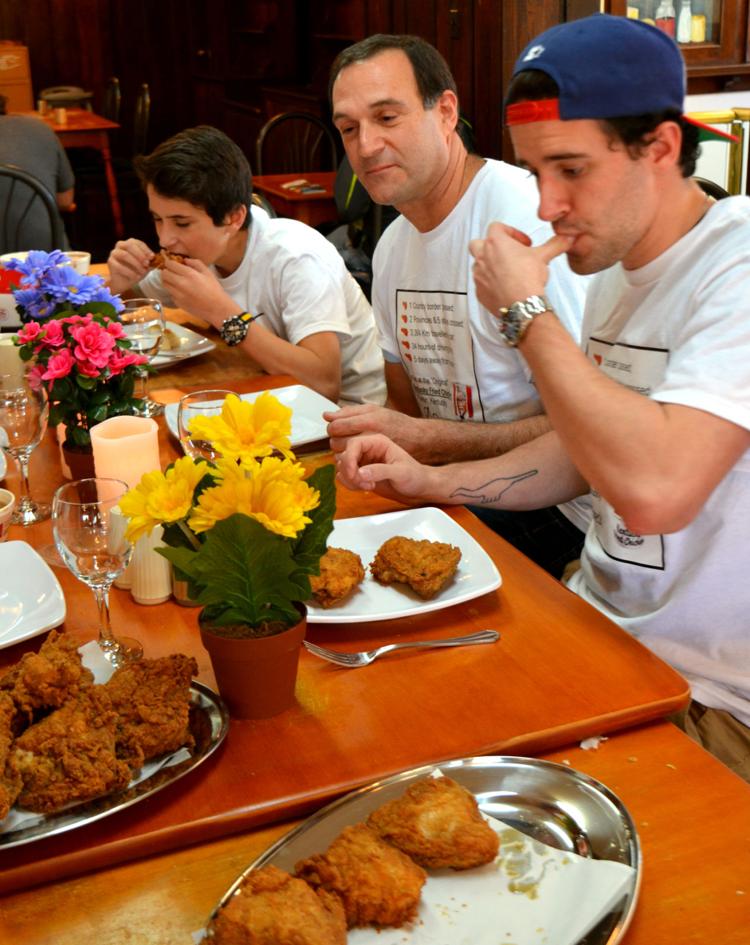 "Jesse, what do you think about it?" a visitor asked Lutfy's son.
"It's delicious!" he quickly replied.
His dad, Brian, added, "We should be licking our fingers."
Some 20 minutes later, their dinner was finished.
The crew was full. And a feeling of accomplishment was felt.
The final chapter to the 30-year-old story was complete.
Like fathers, like sons.
"You got to eat where it all began," Lutfy said to all of them.
"Kentucky Fried Chicken, in Kentucky!" noted Josh.
"And it all started there in the kitchen," Janna proclaimed as he pointed over to the old kitchen nearby, where the Colonel's 11 herbs and spices — the "Secret Recipe,"— was created long before all of them were born.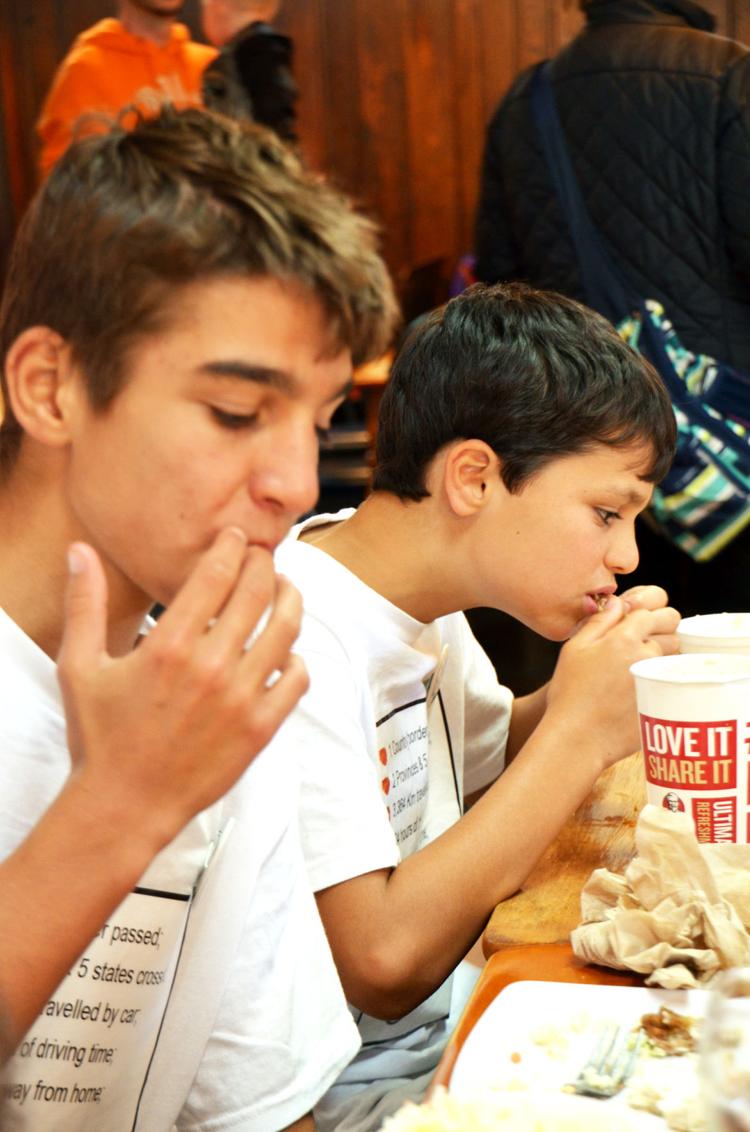 They intended to spend an hour for dinner. Turned out, that stretched to over two hours.
Next stop was back home, with a stay over late Saturday night in Akron, Ohio.
They decided to take some chicken to go — to snack on, as they headed back north.
By dinner's end, the significance of their road trip was sinking in — just like the full feeling in their tummies.
"It was a great trip. It was funny most of the time, and we anticipated coming here to eat. We stopped at several places, and people participated in our shenanigans, like small skits we did our Facebook page for all our friends and family to see," said Sebastien.
Josh added, "It's a little messy to eat with your fingers, but it tasted great. I'd like to come back here when I get older and bring my kids here. Right, Jesse?"
His younger brother replied, "Right! I was so excited to eat here when we drove down."
Already, the seeds of a sequel with a new generation began.
"I think it's crazy to do this trip, going all the way down from Canada to Corbin. And what a trip it was. It's my first time to have Kentucky Fried Chicken. I'd like to start this with my kids. It's going to be a tradition," noted Jason.
Neil Janna said, "When Brian called me up a few weeks ago, he asked me if I'd like to have a bite of KFC and I said, 'Yeah!' But when he said, 'I mean, having KFC in Kentucky, I told Brian, 'You're joking, right?' And he said, 'I'm not.' We've had a blast! Everybody's been so friendly, been so accommodating, and it's all been fantastic."
Lutfy had accomplished his mission. And he had fun doing it.
He had the final word.
"Neil and I have been friends for 35 years, and doing ongoing, crazy things have been special for us. But to bring our sons here with us makes it even more fun. We do practical jokes with our kids. We've done skits that we taped along the way. It's been a crazy road trip. It's been at the top of our bucket list. I did that first trip 30 years ago, and the second one 20 years ago. Now it's come full circle. We did fun things with our kids. The important thing about this trip is this — don't be afraid to have fun," Brian Lutfy pointed out.