San Francisco's intersection of Haight and Ashbury streets was ground zero during the "Summer of Love"; a 1967 gathering of young people searching for an alternative lifestyle that included free love, free-flowing drugs, free food and psychedelic rock.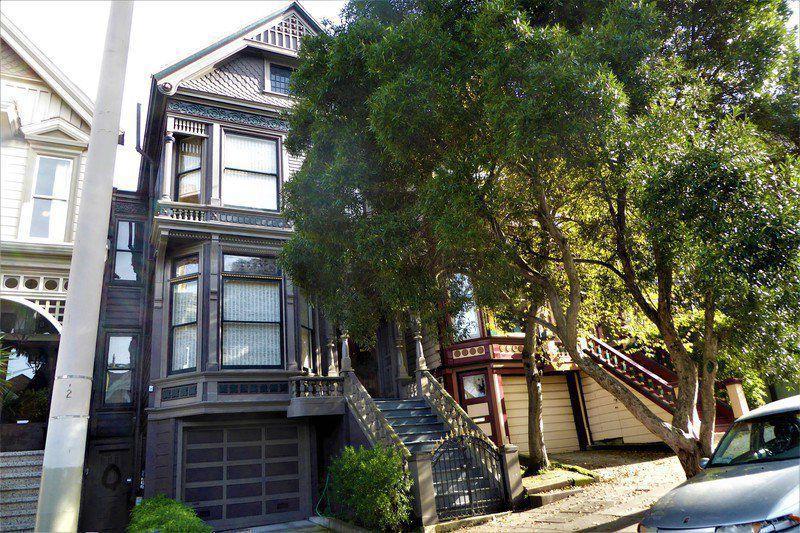 Jerry Garcia and his Grateful Dead bandmates lived on Ashbury, a short walk south of the intersection with Haight Street. Somewhat surprisingly, if anything of that era could be surprising, Hells Angels lived across the street from the Grateful Dead. Janis Joplin resided nearby in a fourth-floor apartment on the same street. The district was also home to some shady characters including ex-convict and cult leader Charles Manson who, along with three female followers, was convicted of murder and conspiracy in the deaths of Sharon Tate and six others.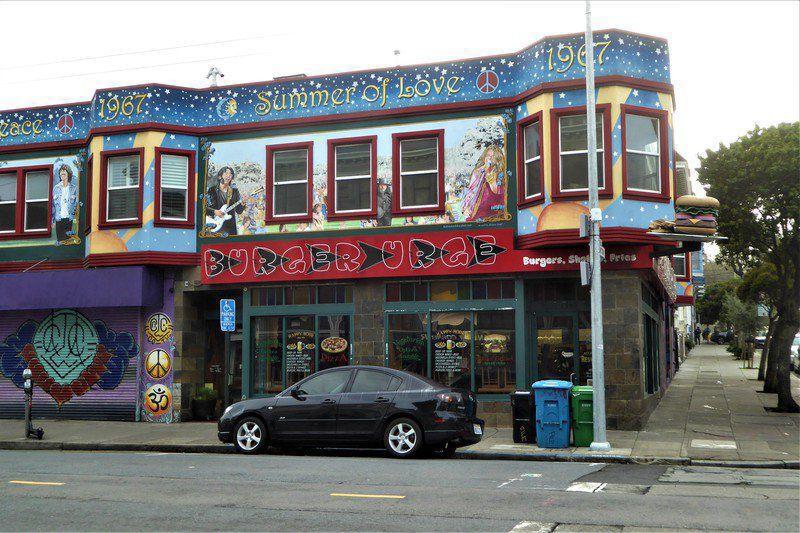 The two of us have visited the neighborhood on several occasions, but primarily for a stroll along Haight Street before crossing to Golden Gate Park where we spent most of the day. In planning our most recent San Francisco trip, we wanted to devote more time exploring the Haight-Ashbury area with an interest in discovering to what extent the district had retained its unique 1960s character.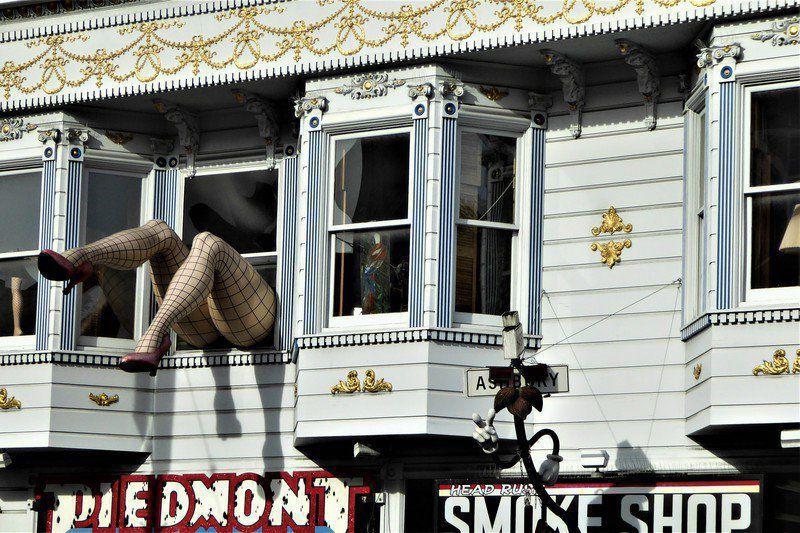 A Brief History of San Francisco's Haight District
Like many metropolitan neighborhoods, San Francisco's Haight District enjoys a colorful history that deserves better than being pigeonholed into a single period – in this instance, the 1960s. Neighborhoods evolve and few cities illustrate this more than San Francisco.
San Francisco had about 200 residents in the mid 1840s when what is now the Haight District was mostly an expanse of scrub and uninhabited sand dunes. Discovery of gold in 1848 at Sutter's Creek attracted prospectors and others who flooded into the Bay area on their way to the gold fields.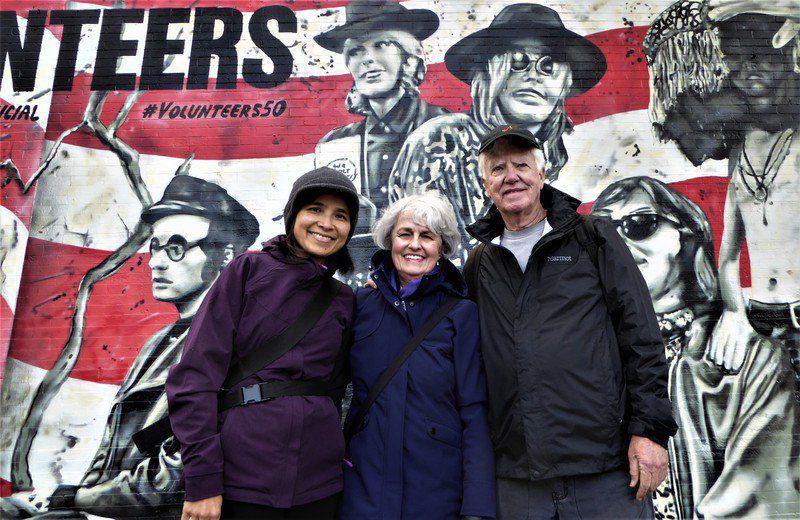 The increase in population resulted in portions of the Haight District being converted into modest ranches to help feed newcomers. Land unsuitable for farming or ranching was spotted with shacks where the less fortunate found shelter.
Development of Golden Gate Park during the 1860s and 1870s, plus extension of the city's cable cars to the district in the 1880s produced major change. The Haight area became San Francisco's premier recreational area where citizens could enjoy an amusement park, a baseball stadium, restaurants, hotels and more. Cable car access also made the neighborhood attractive for families to establish residences with quick and easy access to jobs in the city.
The 1906 earthquake and resulting fires that devastated 80% of the city left the Haight undamaged. Many of the homeless migrated to the neighborhood where they lived in hotels, tent villages and small "earthquake shacks" that later gave way to more substantial homes.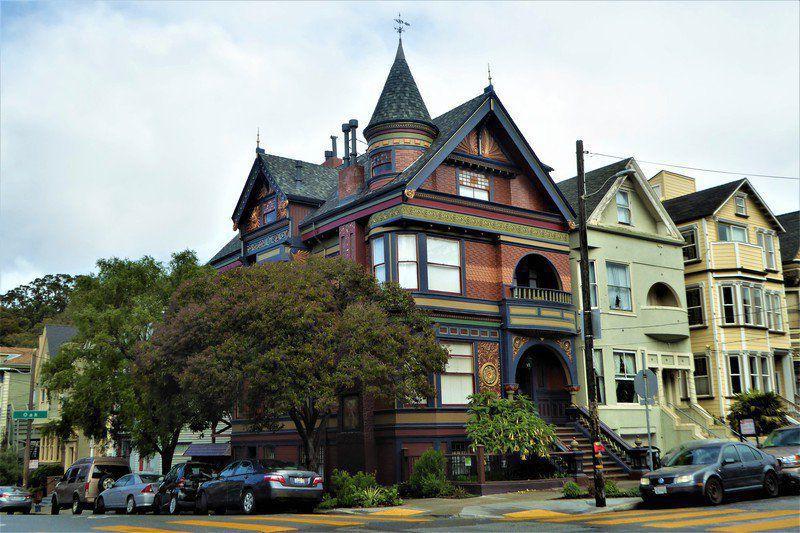 San Francisco's Summer of Love
Like many neighborhoods, the Haight has experienced ebbs and flows.
A period of deterioration occurred in the 1950s and early 1960s as many residents departed for the San Francisco suburbs. A decline in housing values attracted young people looking for inexpensive rent or vacant homes. 
The resulting influx transformed the Haight-Ashbury area, leading to a counterculture environment that flourished at a time when turmoil was engulfing much of the U.S. Casualties in the Vietnam War were on the rise and civil rights activists began entertaining more extreme actions. Meanwhile the Haight's attention was on psychedelic music, Timothy Leary and LSD.
What many consider the pinnacle, but also the turning point of the Haight's hippie movement took place Jan. 14, 1967, in Golden Gate Park. The Gathering of the Tribes, also called the "Human Be-In," attracted more than 20,000 people who celebrated the counterculture with an opening presentation by LSD advocate Timothy Leary ("turn on, tune in, drop out"), poetry by Alex Ginsberg and music by the Grateful Dead, Santana and Jefferson Airplane. A high time was had by all.
The Be-In gathering received national news coverage resulting in the Haight being flooded with more young people than the area could handle. Many newcomers were students who returned to school in the fall. By that time conditions had deteriorated to the point the remaining residents held a mock funeral, "Death of the Hippie," signaling the end of Haight's era of counterculture.
The Haight Today
Today's Haight retains a degree of its 1960s flavor with quirky stores and some unusual individuals. According to one store employee, LSD remains easy to acquire, but not for free. He said the number of homeless remains fairly stable with departures offsetting new arrivals.
To a degree, visitors may pick up the impression today's Haight Street is a movie set designed around the Summer of Love. A local who has lived on Ashbury Street since the 1970s complained the neighborhood's businesses now revolve around tourists rather than residents. A fashionable food market is on Haight Street but few other stores provide for the daily needs of residents.
Today's quintessential storefront is Love on Haight, a brightly painted establishment brimming inside with colorful tie-dye shirts, dresses, headwear, jackets, sweatshirts and more. We heard from a friend that the store is a popular stop for individuals headed to Burning Man.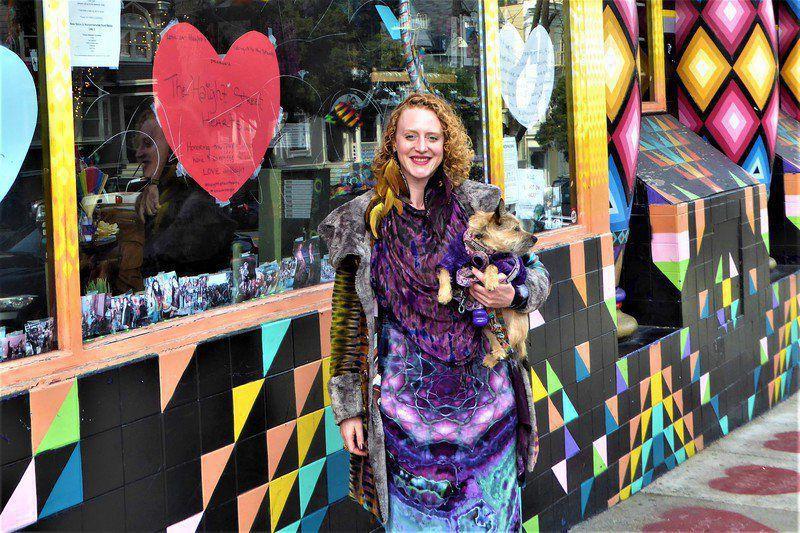 Owner Sunshine (Sunny) Powers is an enthusiastic, colorful and excellent spokesperson for today's Haight District. 
"Our goal is to create a magical feeling when people enter the store," she told us.
Sunny understands the importance of keeping up with the times and has established a presence on the Internet. 
"Many people enter the store without buying anything, but we hope they will perhaps order a thing or two from our website after returning home." 
Getting ready to exit the store for our next stop, we heard Sunny call from the back of the store, "Bus." Each time a tour bus rounds the corner an employee stands at the store entrance and waves. Marketing is alive and well in the Haight.
We visited two bookstores, one operated by enterprising Christin Evans who, like Sunshine Powers, survives through hard work and innovation. Having owned the store for 12 years, she schedules an average of 70 meet-the-author events annually and maintains a business Facebook page with more than 65,000 followers. 
While Ms. Evans bookstore, Booksmith, seemed on the cutting edge, another Haight bookstore, Bound Together Anarchist Collective Bookstore, appears as if it truly belonged in the '60s, or perhaps even earlier.
The Haight is a worthwhile visit for anyone planning a trip to San Francisco, especially those of us old enough to remember the Summer of Love. The neighborhood may not be exactly what you anticipate, but it is an interesting area with funky stores and some very beautiful homes. 
If you go, don't miss Amoeba Music, one of planet Earth's most fantastic record stores.
David and Kay Scott are authors of "Complete Guide to the National Park Lodges" (Globe Pequot). The Scotts live in Valdosta, Georgia. Visit them at mypages.valdosta.edu/dlscott/Scott.html
If You Go:
Lodging: Our time in San Francisco was split between two hotels. Modern 32-story InterContinental Hotel at 888 Howard St. offers contemporary rooms with excellent city views from the upper floors (1-888-424-6835, www.intercontinentalsanfrancisco.com). The Sir Francis Drake at 450 Powell St. is one of the city's historic classics where guests are greeted by a doorman dressed in a Beefeater uniform. The convenient location is one block from Union Square (1-800-795-7129, www.sirfrancisdrake.com).
Food: InterContinental's Luce Restaurant offers modern American cuisine including the adventure of a nine-course Chef's Tasting Menu with wine pairings. (www.lucewinerestaurant.com). Scala's Bistro beside Sir Francis Drake offers Italian fare with a French twist in a European setting (www.scalasbistro.com). John's Grill at 63 Ellis has been serving great meals since 1908 (www.johnsgrill.com). At Fisherman's Wharf Bistro Boudin offers excellent meals and has a demonstration bakery showcasing sourdough bread (www.bistroboudin.com).
Additional Information: Contact San Francisco Travel at 1-415-391-2000 or www.sftravel.com.